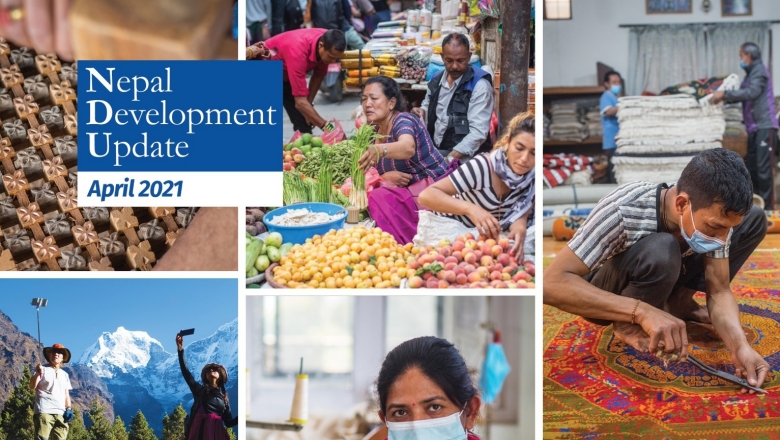 Download the latest Nepal Development Update here.
Recent Economic Developments
Nepal has been hit hard by COVID-19, although the situation has improved more recently. As the outbreak became widespread in mid-2020, a nationwide lockdown was implemented from March to July in 2020, followed by localized lockdowns, including in the Kathmandu Valley up until mid-September. During this time transportation, education and tourism-related activities were significantly restricted. Since October, the number of cases has been declining steadily, allowing a gradual easing of movement restrictions. Nepal launched its vaccination program on January 27, 2021, and about 5.9 percent of the population (or 1,791,606 people) were inoculated by mid-March 2021. Thus, there are good prospects that further outbreaks of COVID-19 can be contained.
After contracting for the first time in 40 years in FY20-by 1.9 percent-the economy showed signs of moderate recovery in the first half of FY21. Activity resumed in wholesale and retail trade, transport, and financial services, while favorable monsoons drove agricultural growth. However, tourism remained at a standstill and private investment anemic given high levels of overall uncertainty related to the epidemic as well as political developments. Uncertainty arising from the epidemic has also contributed to fiscal risks due to the degree of fiscal stimulus provided to support individuals and firms and which will need to eventually be rolled back for fiscal sustainability. Political uncertainty also heightened in December 2020 when the Prime Minister dissolved Parliament. The Supreme Court overturned the decision, reinstating Parliament in February 2021 and precipitating the split of the two-party majority coalition in March.
Economic hardship is likely to have an impact on income and employment. The increasing number of unemployment applications and returning migrants could adversely affect progress in poverty reduction. The recent World Bank COVID-19 monitoring survey suggests there were widespread impacts of the pandemic on jobs and incomes, with more than two of every five economically active workers reporting an incidence of job loss or prolonged work absence. Women, young workers, and those engaged in nonagricultural activities have been the most severely affected.
Credit growth recovered in recent months, albeit moderately. In the wake of the COVID-19 crisis, the central bank lowered its policy rate and took additional measures to support credit to the private sector, including refinancing programs for COVID-19-affected firms. As a result, credit to the private sector grew by 11.6 percent in the first half of FY21, still below pre-pandemic levels. Over the same period, deposits increased significantly due possibly to three key factors: higher precautionary savings, repatriation of savings by returning migrants, and reduced consumption amidst social distancing measures.
Muted domestic demand has contributed to an improvement in the current account balance. The current account deficit narrowed by 39.6 percent year-on-year (y-o-y) in the first half of FY21, thanks to a sharp contraction in imports (by 11.8 percent) and a recovery of remittance inflows (which grew by 6.7 percent y-o-y, after falling by 3.4 percent in FY20). Given limited amounts of foreign direct investment (FDI), external concessional loans have primarily financed the current account deficit. The central bank's foreign exchange reserves increased moderately to US$11.3 billion by mid-January 2021, equivalent to 11.3 months of imports.
Spending was higher and revenue lower, y-o-y, over the first half of FY21. Higher spending was driven by purchases of COVID-19-related health equipment and investments at the subnational levels, which offset a significant reduction in capital spending at the central level. Meanwhile, revenues fell slightly. Tax revenues declined by 2.1 percent y-o-y, with trade and consumption taxes, as well as corporate income taxes performing poorly. Non-tax revenues continued to suffer from the near standstill in tourism. Consequently, public debt increased by 8.2 percent over the first half of FY21, relative to the end of FY20, to 36.4 percent of the projected FY21 gross domestic product (GDP). Despite these changes, Nepal remains at low risk of debt distress.
Outlook, Risks, and Challenges
The economy is expected to recover steadily but gradually from FY21 onward. Assuming a successful vaccination rollout domestically and globally, and a gradual resumption of international tourism, real GDP is projected to grow by 2.7 percent in FY21 and 3.9 percent in FY22. Growth is expected to be driven by services as social distancing eases up further, and by agriculture, on the back of recent favorable monsoons. However, the pandemic is expected to have lasting effects. Without reforms to readjust towards a post-COVID-19 tourism market that includes improvements to nature-based tourism, enhanced infrastructure for better access, environmental management and tourism diversification, the sector may not fully recover. This would stall the growth recovery, limiting its resilience. Tepid exports of goods, and services, matched against increasing imports, as consumption returns to normal, would widen the current account deficit to 3.2 percent of GDP by FY22.
The fiscal deficit is projected to remain elevated but to stabilize gradually over the medium
term. Revenue performance is expected to remain weak, and additional spending will be required for economic relief measures, vaccinations, and the resumption of project implementation. As a result, the fiscal deficit is expected to widen to just under 8 percent of GDP in FY22 and public debt is projected to reach 46.7 percent of GDP by FY22. However, the country's debt will remain sustainable.
The economic outlook is subject to significant downside risks. The recent political uncertainty, if prolonged, may further undermine investment sentiment. On the upside, effective vaccination campaigns could facilitate a resumption of tourism and hospitality services. A resilient recovery could be further supported by investments, to enhance quality, market access, and livelihood opportunities for local communities in tourism and related value chains.
To mitigate downside risks to the outlook, it will be critical to address structural weaknesses in the economy that have been exacerbated by the pandemic. Over the years, remittance inflows have supported private consumption, poverty reduction, government revenues, and foreign exchange reserves. However, this heavy reliance on remittances has come at a cost, driving a real appreciation of the exchange rate, and undermining export competitiveness while encouraging imports. In turn, weak job creation has fueled further outmigration, while high imports have resulted in a heavy reliance on trade taxes, further weakening firm productivity. Developing exports to drive job creation and firm productivity is therefore central to a quick and resilient recovery. This will require higher levels of much needed FDI to leverage technical know-how and skills from abroad. Complementary reforms to promote exports would also be needed, including investments in resilient infrastructure to close existing gaps that undermine growth. Investments could also go to develop high value tourism targeted at the mid-range segment and focused on nature-based tourism to support community livelihoods and conservation. This in turn would support greener growth, resilience, and inclusion.
Special Focus― Harnessing Export Potential for a Green, Inclusive, and Resilient Recovery
The Special Focus section of this report explores options to promote trade, particularly through exports, as a transformative pathway to support Nepal's resilient recovery. Over the past two decades, Nepal's export growth has been stagnant. Indeed, with export growth at 4 percent on average since the turn of the century, Nepal features among the 20 countries in the world with the least dynamic exports. Stronger exports could help increase Nepal's economic resilience, and accelerate recovery from the devastating shock that the COVID-19 pandemic has posed for the private sector. Exports can not only bring foreign currency into the economy to finance well-needed imports, but also spur the creation of "good jobs" in higher value-added activities. Indeed, export orientation tends to drive productivity gains through increased scale and exposure to
sophisticated global clients.
This report estimates Nepal's untapped export potential or "missing" exports at around US$9.2 billion, 12 times its actual annual merchandise exports. Realizing that potential is achievable in the medium term. Had Nepal's exports grown at the average of the South Asia region since 2000, the unrealized export potential would have been reduced by 73 percent. This export potential represents an opportunity to create an estimated 220,000 new jobs, with significant implications for productivity growth.
For Nepal to achieve its export potential, six key priorities need to be tackled. First, Nepal will need to reform the tourism sector to meet the expected changes to demand and preferences, following the pandemic. A quick and resilient recovery of the sector could come about through investments to improve planning, conservation, and resilient infrastructure. It would also entail coordination with the private sector to upgrade skills and develop nature-based tourism that is environmentally sustainable, with potential to support jobs creation and inclusive growth. Second, to attract FDI, crucial for integration into regional and global value chains, it will be important to simplify and streamline processes for multinationals setting shop in Nepal, as well as actively engage in economic diplomacy to attract FDI. Third, modernizing export promotion will require links to digitization, simplification of processes, skills development, and incentives for exporters. Fourth, a reduction of trade costs will be critical, particularly given the country's landlocked location and the mountainous terrain. This would entail reducing border crossing congestion through upgraded infrastructure and streamlined procedures and processes. Similarly, reducing import duties – particularly on raw materials and intermediates – is crucial to ensure exporters have access to the most efficient inputs at world prices. Fifth, investments to improve phytosanitary infrastructure will be needed for increased standards and safety of exports. Sixth, measures to boost digital trade, and e-commerce in general – could potentially be a game changer for Nepal – through adopting a robust policy framework. This would include, inter alia, efficient domestic and cross-border digital payment systems, and consumer protection and data privacy regulations aligned with international good practices.
Source: https://www.worldbank.org/en/country/nepal/publication/nepaldevelopmentupdate